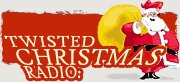 Have you ever had the pleasure of walking through the local mall during the annual Holiday season listening to the canned tunes, and smiling from ear to ear while you sing your own words in your mind???
I highly recommend Bob Rivers and his crew of totally talented folks who have been putting out great parodies for over ten years now. My suggestion is to click the post title above, then on the page click the picture like the one above and listen to the random songs. The first song I played - "I Came Upon A Roadkill Deer" - on my car player about 10 years ago almost forced me to pull off the road to laugh! My trips to the mall are completely fun-filled while my niece and I try to remember all the lyrics to these. There's one my sister-in-law, Grace, likes to hear over and over! ;)
Those of you who know my wrapped sense of humor will agree - these are the songs I would have written myself if I had the time and talent! Please enjoy these tunes in the spirit in which they're recommended. While I enjoy the traditional songs, these never fail to bring a smile to my heart!!