Welcome Lindsay Madison!!!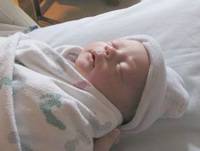 Lindsay resting after a difficult journey only hours earlier!

Great Aunt Susie with Lindsay - just over 12 hours old!

Lindsay wrapping her brand new Grandpa around her tiny little finger!
We want to welcome little Lindsay Madison Chappell to the family. The stork made a house call to the family doorstep on 8 Dec 04 with a 6 pound, 11 ounce bundle of joy. Since my own son was over 10 pounds when he was born, I believe this is the smallest baby I've held so far!
Seems everybody in the family is thrilled with the new arrival, with the possible exception of Gunther, the family cat - he hasn't had the pleasure of making Lindsay's acquaintance yet. All in good time!
Even the squirrels can't bug me on a day like this!!